Radial Tonebone Headbone VT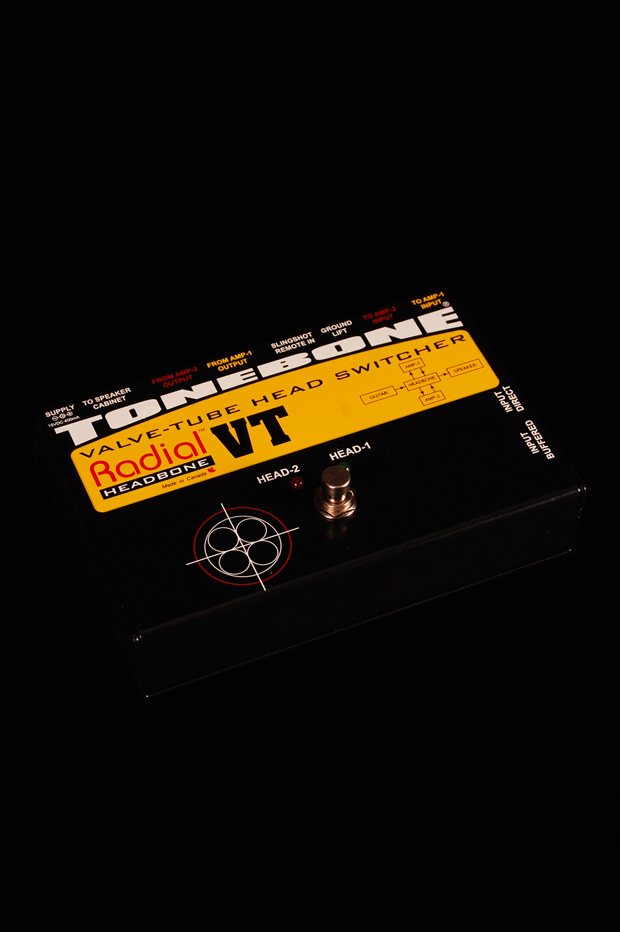 The Headbone VT is a specially designed switching device that lets you toggle between two tube amplifier heads using a single speaker cabinet. This provides the ability to experiment with different tonal options and perform without hauling two speaker cabinets to the gig.
Toggle between two amp heads using a single speaker cabinet
Can be controlled remotely with separate footswitch
Class-A audio circuit retains the tone of the amplifier
Opto-couplers for noise-free switching
The Headbone is a guitar amplifier switcher that allows two heads to share one speaker cabinet. The Headbone lets you toggle from one head to another without pops, clicks, hum or added noise.
The Headbone gives you a choice of buffered or non-buffered inputs and employs optocouplers to ensure noise-free switching of the guitar signal. For the speaker level signals, high cycle sealed relays switch the amplifiers outputs. Switching guitar and speaker signals this way ensures silent and reliable switching while maintaining the natural tone of your guitar and amps.
The Headbone is safe to use. Headbone controls the transition between amps to ensure proper loads are always maintained by connecting the standby amplifier to a load resistor. The Headbone may be switched using the on-board footswitch or via the Slingshot remote. The Headbone expands your tonal range and reduces the amount of gear you need to carry to the gig. Three models available; Headbone VT for tube amp setups; Headbone SS for solid-state amps and Headbone TS for one tube and one solid-state amp.